Hair Icon are proud to stock the GHD Metallic Collection, a limited edition range of classic styler gift sets, perfect for under any Christmas tree.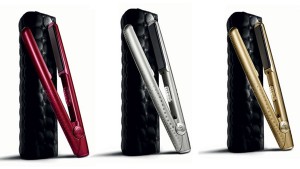 Coming in three beautiful colours, these stylers not only deliver GHD's signature high quality styling, but also take the glamour of your styling routine to a whole new level.
When it comes to hair styling tools, the cult hair brand, GHD, is arguably the best, with their signature stylers used in salons and homes worldwide earning the status of a true icon. The GHD gold V Classic Styler in these sets is so versatile, allowing you straighten, curl or wave. The smooth, black, contoured plates, with a hint of sparkle, give your hair a glossy finish too.
They can be used on all hair types, meaning they're great gifts for anyone.
Regardless of what style you're going for, the GHD Classic Styler is amazing and it adapts to your style, making it a must have essential for everyone's daily hair styling routine.
With 3 limited edition stylers to choose from; Rich Red, Sahara Gold, and Shimmering Silver, this is the ultimate accessory.
Each styler comes with a stylish quilted case, which also cleverly doubles up as a heat-resistant mat, rounding off the set perfectly.
The gift sets are being sold at £129 and they are limited edition so grab yours now and give the gift of beautiful hair, a gift that keeps on giving long after the festive season is over!